Rubber Coated Neodymium Pot Magnets
Rubber Coated Neodymium Pot Magnets w/Threaded Center Hole
Rubber coated neodymium pot magnets are strong and durable magnetic assemblies with a threaded center hole (internal female thread) and protective rubber coating. Made with N35 neodymium disc magnets attached to a flat steel disc and coated with black isoprene rubber which leaves no marks and prevents surfaces from scratching. The protective rubber coating protects magnets from corrosion or oxidation for sustained use in outdoor environments. It also prevents magnets from chipping easily and provides more slip-resistance than other types of coated or uncoated magnets.
Rubber coated magnets are high in magnetic strength and weatherproof so they are ideal for indoor and outdoor applications where high magnetic strength s required. They are frequently used for holding, mounting and fixing purposes, from mounting lights or fixtures to equipment repair, holding tools and organizing items in warehouses, workstations and outdoor areas.
Strong pull force, waterproof, durable, high traction, corrosion resistant, temperature resistant, magnets do not easily chip.
Constructed with N35 Neodymium magnet encased in a steel structure & coated with a protective rubber coating.
Internal Female Thread accommodates standard fasteners & attachments.
NdFeB Magnets are axially magnetized (through the thickness).
Isoprene Black Rubber Coating is approx. 0.03" thick.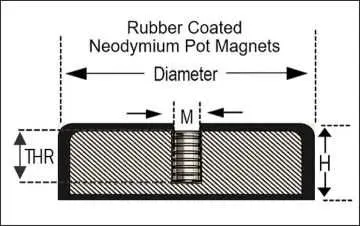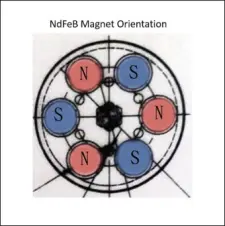 * $15.00 total minimum order (excluding shipping & tax if applicable) - Items can be combined to reach the minimum amount.
Approximate Pull Info:
The approximate pull info listed is for reference only. These values are calculated under the assumption that the magnet will be attached to a flat, ground 1/2" thick mild steel plate. Coatings, rust, rough surfaces, and certain environmental conditions can significantly reduce the pull force. Please be sure to test the actual pull in your actual application. For critical applications, it is suggested that the pull be de-rated by a factor of 2 or more, depending on the severity of a potential failure.
Manufacturing Methods
Our neodymium channel magnets are sintered for optimal magnetic strength and axially magnetized (the magnetism direction is along the axis of the magnet from the north to the south poles).
Measurement Tolerances
Standard tolerances are +/- 0.005" on both diameter and thickness dimensions.
Learn More About: